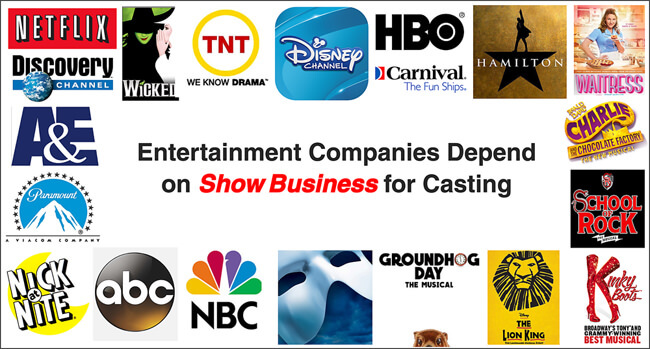 About Us
Show Business is the original casting weekly for actors looking for work on stage and screen.
From renowned entertainers to today's working actors, Show Business is known for helping performers get their first break.
For over 75 years, we have continued to deliver the most dependable casting calls and job auditions to aspiring talent everywhere. We provide vital career building information and guidance that finds actors work.
Authoritative, perceptive and useful, our content contains everything you need to get your start in the business. Insightful articles, comprehensive contact listings of talent agents, casting directors and more make Show Business essential reading.
Above all, we give you direct access to all the important industry resources necessary to help you land a job.
Casting & Auditions
Show Business has a longstanding reputation for its casting and audition notices.
When it was founded in 1941, Show Business first introduced the concept of the casting notice in a printed weekly newspaper that sold for a dime in Times Square.
Audition and casting notices were difficult to come by at the time. It was all word of mouth and who you knew. Our founder wanted to make show business jobs more accessible to everyday actors.
Today, our tradition lives on more than ever. We help thousands of performers every day advance their acting careers to the next level.
If you're thinking about getting into show business or if you already have experience in front of an audience, we can help you.
Find comprehensive advice, guidance and instruction from industry experts who care about the craft and the artists who pursue it.


Join our community of actors, singers and dancers today and gain access to the performing arts guide that started it all. And the best part is it's all completely free! The Show Business Team and we look forward to helping you follow your dream and live your passion.
Create A Free Account CLICK HERE